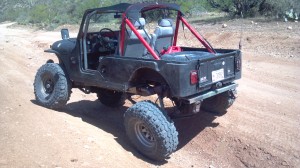 A while back I decide my Jeep really need a rear bumper. The naked rear end just made me unhappy. This picture displays it nicely enough. No bumper, no tire carrier. its not "bad" but it just doesn't have that Jeep feel to it.
On top of the aesthetic issues I have with the look and feel of the rear end I also don't have any tow hooks or recovery points which if you do any sort of trails with the possibility of getting stuck or needing a strap, having a reliable place to hook a strap into is sort of required.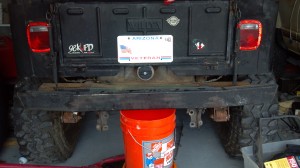 After a lot of thought I decided the best way to do this was to re-purpose the front bumper we originally made for my Toyota Pickup truck which I was selling. here you can see the general placement and getting a feel for the width of the Bumper as applied to the Jeep instead of the truck. To make the bumper work I had to cut off the original brackets and then had the challenge of finding new brackets to attach to the rear of the Jeep. In the picture to the left you can see the original brackets hanging down on either side of the bucket.
above is the process of fabricating the new brackets welding them to the Jeep and bumper which solves the issue of actually having a bumper. It is not quite straight but overall it is functional and i'm pretty impressed with how it came out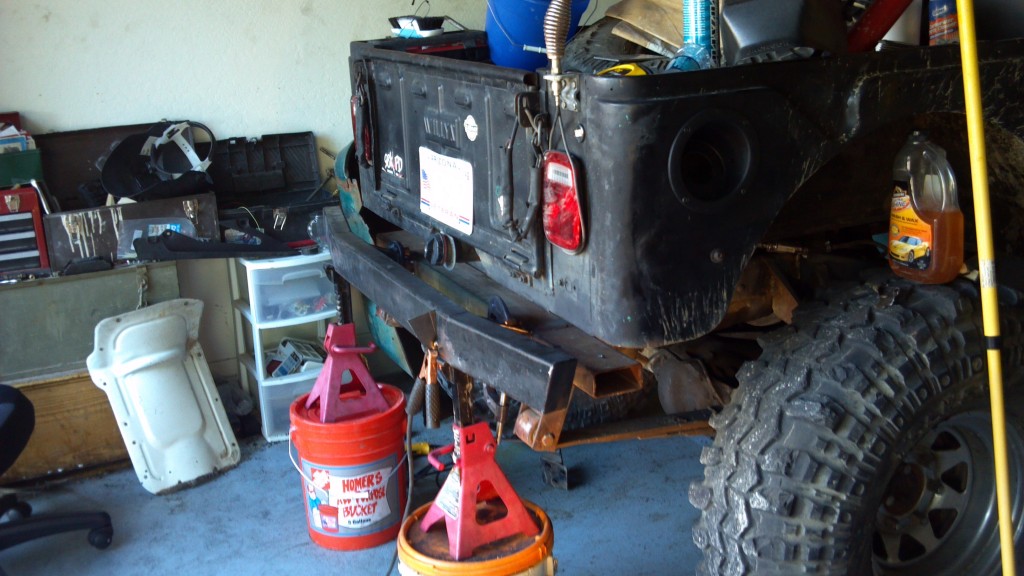 Step 2 of this process was creating a solid rear tow and recovery point. Of course the solution is a 2″ towing receiver hitch.
The end result is a bumper I am pretty proud of for throwing together in a day. Fit and finish is certainly not a nice as something engineered and factory produced for the same purpose, but Jeeps are meant to be built in a garage with your dad, not bought.
In this picture I have the rear tire sitting on top of the bumper, the next stage in the process is create the tire carrier part of it