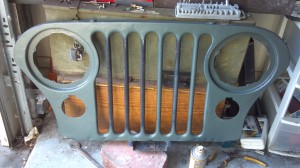 Another Adventure in Jeep building.Starting back on the front end, the grille is a bit of a mess. Its really only the visual front half as we had to trim it down to size to fit the radiator. Since we did have to remove a lot of metal from the grille its fairly thin. I opted to not strip as much paint and metal off of it as at this point I think it is more rust than metal. However it does still need some black accents like the rest of the Jeep. The new paint scheme is the Olive Satin paint with gloss black accents. So to the left and right the before and after of the Iconic Jeep grille, although the before is after I had painted most of it green, it was black previously.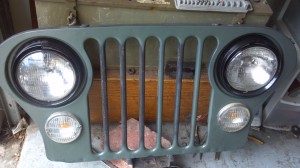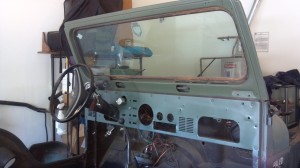 Starting from where I left off with painting the dash I decided I needed to start putting it back together. The original gauges I had installed were white faced with chrome around the outside. these wont actually fit with the new paint sadly so on the budget eventually will be to replace them with "Normal" black background gauges with black around the outside. In the meantime I did take the liberty of painting the chrome bits on this one with the gloss black.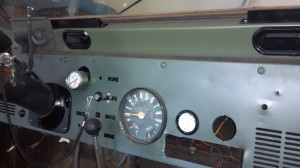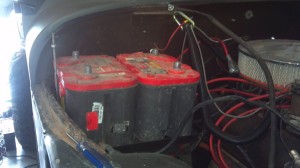 The Battery tray has always been a bit of a nuisance. It came with the fenders I got for $50 somewhere in Glendale and was never complete in that it did not have any way to secure the batteries down. So on the menu was to fix that with this piece of metal I had lying around the garage. This works quite a bit better and will secure them down to the tray.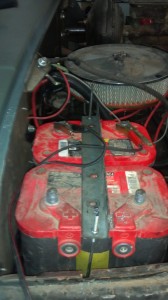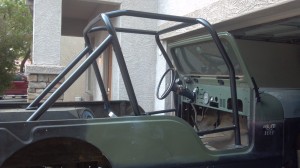 Last on the menu was to get the Roll cage back inside which was a little tricky to do by myself. Although now that it is in I really love the new paint. Overall It will look quite nice when I am finished with it I think. Not too bad for some spray paint and a couple weekends worth of work.There is still a lot to be done on the Jeep But I think this is quite a decent start to it.